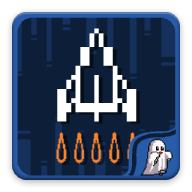 Run
Category: Fast game Size: 3M
Go for better score. Stay as long as you can. Many heroes, enemies, items, portals.
CONTROLS:
Control your white hero character with the red controlPad on the side. Try to avoid flying enemies, that will appear after every item, you consumed.
Enjoy, have a fun and bye.

or

---
FAQ
No Google Play Games? Disabling advertisement? And other stuffs?
I'm sorry but this game was made for testing purposes, so you can enjoy this light version. I tried to learn some basics here.