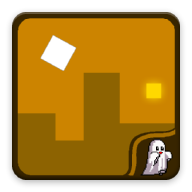 Jump Cube, Jump
Category: Fast game Size: 7M
Avoid enemies, objects and walls, collect coins and power-ups, reach the longest distance and biggest level. Chalenge yourself, beat the others.
You have two buttons:
- left button - you'll enable god mode, that means that you can walk through walls and the special platforms will not activate (but you can't also collect coins and power-ups in this mode)
- right button you jumped to the height (hold longer -> jump higher) and you can do double-jump (be patient with touching)
Coin colors

New level

Increased speed
Enjoy, have a fun and bye.

or

---
FAQ
How to connect Google Play Games with the game?
In the menu click on the icon CONNECT GAMES and enjoy all challenges to achieve new levels.
I don't like that annoying advertisement. How to disable them?
Simple. Buy In-App purchase in the menu (small NO ADS & UNLOCK LEVELS button in the corner), it doesn't cost even one cup of .