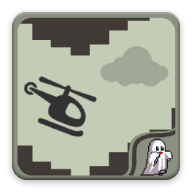 Helicopter
Category: Fast game Size: 3M
Go for better score. Travel the longest distance, get the highest score, you can. Tired of the helicopter's design? Don't worry, you can choose one of the 16 characters, that you can control in the game.
CONTROLS:
You can lift up helicopter (or whatever else) by simple touching on the screen. Try to avoid side walls and also wall that will be generated randomly with randomly moving direction and speed.
Different speed of level

Simple controls

Multilanguage
Enjoy, have a fun and bye.

or

---
FAQ
Grr. I want new characters. How can I get them?
I'm sorry but this game is limited for 16 playable characters, so I thought, it is enough. Maybe in the new version, why not, yeah?
There is many objects in this game. Which of them should I avoid?
Not so many. You need just to avoid skulls, bombs, corner walls and moving wall that will be generated randomly.
How to connect Google Play Games with the game?
In the menu click on the icon GAMEPAD and enjoy all leaderboards and challenges to achieve new levels.
I don't like that annoying advertisement. How to disable them?
Simple. Buy In-App purchase in the menu (small NO ADS icon in the corner), it doesn't cost even one cup of .